What equipment is available in basalt sand and stone production line
Time:2023-05-22 16:13:55 Share To
If you need our products,you can leave your contact informaction,our sales manager will send more information and quotation to you! Our email: sales@zxcrusher.com, WeChat/whatsapp:+8613676922906.
  As basalt is a kind of stone with high hardness, a set of basalt sand and gravel equipment will make corresponding production line configuration plan according to the output and finished product requirements, and the selected basalt processing equipment also needs to meet the production requirements; according to different configuration types, we recommend the following kinds of plans for you;
  1、Basalt sand and gravel crushing production line
  Basalt sand and gravel production line composed of jaw crusher + cone crusher
  Configuration equipment: feeder + jaw crusher + cone crusher + vibrating screen
  Jaw crusher: mainly used for the primary crushing and processing of basalt hard stone, also known as coarse crusher, with wide range of application, deep crushing cavity, not easy to block material in crushing, good effect for coarse crushing of basalt, convenient crushed basalt stone can meet the next fine crushing link;
  Cone crusher: It adopts the principle of layered crushing, high crushing strength, good effect for fine crushing of basalt under the combination of high crushing cavity and high crushing frequency, large processing capacity and long standby time, which is very suitable for large stone plant operation under the mutual cooperation with jaw crusher.
  Feeder + vibrating screen: the former can evenly send the stone to the crushing chamber of the crusher, and the later is used for screening the stone after crushing, sifting out the stone that does not meet the size of production and crushing it again, and the qualified stone will be sent to the finished product area by the belt conveyor.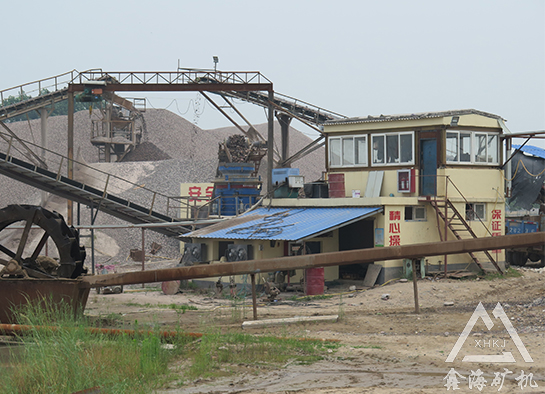 2、Basalt sand and gravel sand making production line
  Configuration equipment: jaw crusher + cone crusher + impact sand making machine
  Impact sand making machine: after the jaw crusher and cone crusher, it is used to make the basalt stone after the cone crusher finely crushed into 1-5mm size of the mechanism sand, using the combination of two principles of stone hitting stone and stone hitting iron to achieve the production of basalt sand, the size of the discharge is adjustable, the finished product is *ly cubic, less flakes, in line with the high requirements of construction sand standards.