Introduction to the main structure of jaw crusher and replacement method of wear parts
Author:Xinhai Time:2021-03-02 13:49:59
If you need our products,you can leave your contact informaction,our sales manager will send more information and quotation to you! Our email: sales@zxcrusher.com, WeChat/whatsapp:+8613676922906.
Jaw crusher, also known as jaw crusher, can crush various materials with compressive strength not exceeding 320 MPa. It has the characteristics of large crushing ratio, uniform output size, simple structure, reliable work, simple maintenance, and economical operating costs. It is widely used in mining, smelting, building materials, highway, railway, water conservancy and chemical industry and many other sectors.
Jaw breaker is mainly composed of fixed body, rotating body, safety device, adjustment device and other parts.
1, Fixed body: The main component is the frame. There are two manufacturing processes for the frame: medium carbon steel casting frame and medium carbon steel welding frame. The welding frame is based on the original casting frame and adds a number of reinforcing ribs, and through strict quality control and specific process requirements, it achieves the same use effect as the casting frame. In order to prevent serious abrasion of the side walls of the frame, guard plates are installed on the left and right sides of the crushing chamber, which can be replaced at will.
2,Rotating body: It is composed of movable jaw, eccentric shaft, bearing, belt pulley, etc. It is the main part of jaw crusher transmission and bearing capacity.
3, Adjusting device: This device is used to adjust the size of the discharge port and control the discharge granularity. There are two types of jaw break adjustment mechanism: the length-lifting wedge type and the ejector washer type. The adjustment is convenient and flexible and can realize stepless adjustment.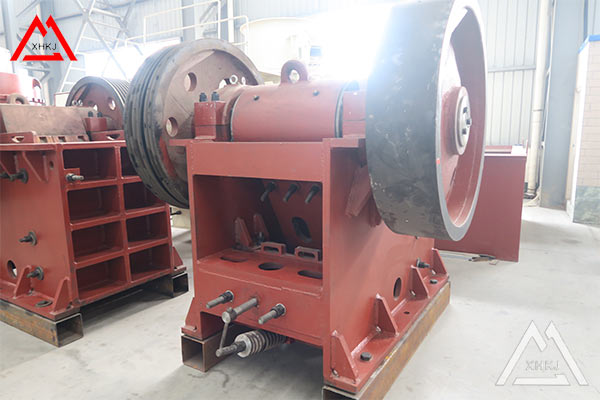 Pay attention to the following points before replacing the movable jaw wedge
1.Only trained and authorized personnel are allowed to perform replacement operations;
2, Before removing any protective device or cover of the jaw crusher, or performing any part replacement on the jaw crusher, always cut off the power supply of the jaw crusher;
3,Please use lifting equipment with sufficient lifting capacity. Do not stand or allow anyone else to stand under the lifted or suspended equipment;
4, When disassembling and installing its parts, safety precautions such as locking and tagging procedures must be implemented;
5,When replacing its parts and vulnerable parts, sharp edges may be exposed. Always wear protective gloves.
Detailed operation steps for removing the mobile jaw wedge of jaw crusher
1,First, empty the remaining materials processed in the jaw crusher discharge port and the crushing chamber.
2,Make sure that the movable jaw body is tilted back so that the jaw plate will not fall forward when the movable jaw wedge is disassembled; the danger of crushing caused by the movable jaw guard plate must be prevented during the removal process.
3,After removing the movable jaw wedge, make sure to tighten the movable jaw guard firmly before any other work in the crushing chamber.