The advantage of cone crusher
Author:Xinhai Time:2017-06-09 14:35:56
If you need our products,you can leave your contact informaction,our sales manager will send more information and quotation to you! Our email: sales@zxcrusher.com, WeChat/whatsapp:+8613676922906.
Cone crusher use a wide range of crusher high efficiency, cone crusher in accordance with the scope of use, divided into coarse, broken and crushed three kinds of ore dressing plant in China's current situation, the majority of equipment used in the standard Type cone crusher, crushing equipment *ly use short head cone crusher, al* already stereotypes. However, the crushing equipment is not a cone crusher, that is, the use of jaw crusher. In order to properly select and rational use of rough broken not prepared, they are briefly analyzed as follows.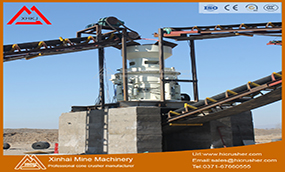 Cone crusher (compared with jaw crusher) The main advantages:
1, broken cavity depth, continuous work, high production capacity, low unit power consumption. It is the same width with the mouth of the jaw crusher compared to the production capacity than the latter to more than doubled, while the power consumption per ton of ore is 0.5-1.2 times lower than the jaw
2, work more stable, less vibrant, the basis of the weight of machinery and equipment sm er. The foundation weight of the cone crusher is usu y 2-3 times the weight of the machine and the weight of the jaw crusher is 5-10 times the weight of the machine itself;
3, can be packed to the mine, a large cone crusher can be directly into the original ore, without the need to increase the mine and to the mine. And jaw crusher can not be crowded to the mine, and require uniform ore, so the need for another ore (or mineral funnel) and to the mine, when the ore block is er than 400 mm, the need to inst expensive heavy plate To mine
4, cone crusher easy to start, unlike the jaw crusher before the start of the use of auxiliary tools to turn the heavy flywheel (sub-start jaw crusher exception);
5, cone crusher generated sheet-like products than jaw crusher to less.